STRUCTURAL REPAIR IN MORGANTOWN, WV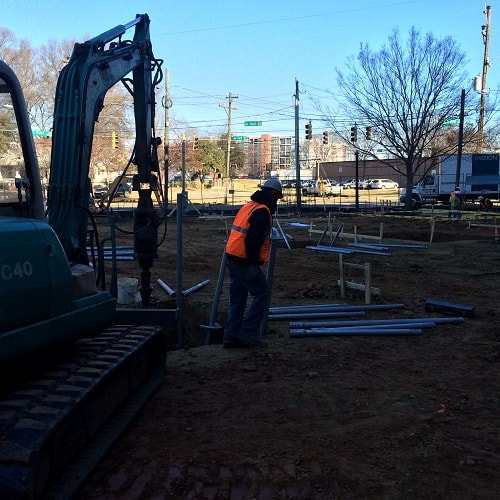 For over 30 years, Matthews Structural Solutions has been providing commercial structural solutions to our Morgantown, WV clients. We have worked hard over the years to maintain a reputation for expert work and outstanding customer service while providing permanent solutions to settling and sinking commercial foundations. If your Morgantown commercial building is experiencing structural issues, contact our team of professionals as soon as possible. Matthews Structural Solutions specializes in shoring solutions, underpinning, helical piles and other commercial services for commercial buildings in Morgantown and surrounding areas in West Virginia.
Types of Structural Repair and Engineering in Morgantown, WV
Matthews Structural Solutions offers commercial structural solutions for businesses in Morgantown that are experiencing settling foundations, damaged floor slabs and collapsing retaining walls.
Some of the services we offer include:
Shoring Solutions: We stabilize cracking and bowing foundation walls
Piling Solutions: This supports structural slabs and can be installed in high water tables, in weak surface soils and in confined areas
Underpinning Solutions: Our products will transfer the load from the structure to more suitable and stable soil
Matthews Structural Solutions has been the answer for commercial structural issues in Morgantown, WV since 1980. We are proud to use products from Earth Contact Products (ECP), giving us the best tools in the industry for all of your commercial foundation needs. We also offer the services of a structural contractor, to ensure your project is planned and implemented correctly. Contact us today if you are in need of foundation repair services in Morgantown. Our experts will visit your site and give you a free inspection and quote. Everyone at Matthews Structural Solutions looks forward to hearing from you and being able to assist you.