Shoring Solutions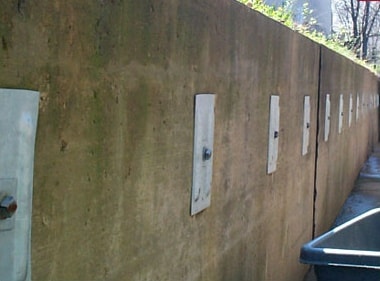 Matthews Structural Solutions is a leader in the shoring of new and existing retaining walls. Plate anchors are designed to stabilize cracking and bowed foundation walls. The inside wall plate is fabricated from 10 gauge hot-rolled steel and measures 12" X 26". The wall plate has two embossed reinforcing ribs for additional stiffness, plus a 4" square, 10-gauge square washer is included for added strength.
Plate Anchor Solutions
The plate anchor is fabricated from two 10-gauge plates and has four reinforcing ribs and four cleats providing approximately 430 square inches of soil bearing surface. The wall plate and plate anchor are connected by a 3/4" diameter continuously threaded tie rod and secured with nuts. The plate anchor assembly is hot dipped galvanized for protection against corrosion. The plate anchors are the most economical method for providing supplemental lateral force to help stabilize bowed and cracked walls. This installation can be quickly installed using handheld equipment and requires minimal excavation or disturbance to the surrounding area. Let Matthews Structural Solutions and our structural contractors help you with your permanent shoring solutions for your commercial property.

Matthews Structural Solutions primarily uses Earth Contact Products anchor materials. Please visit their website at www.earthcontactproducts.com for product information.