PILING SOLUTIONS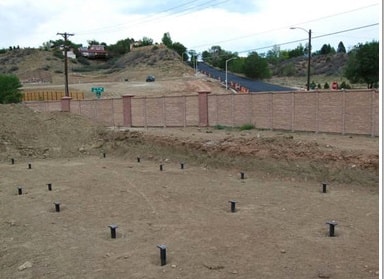 Whether it's a hotel, office, or industrial warehouse, we design and install our solutions to fit your project needs. At Matthews Structural Solutions, we offer piling solutions for commercial projects in the Pittsburgh, PA area. We'll choose the best piling method, depending on the soil condition and the nature of the project. With our experience and skills, you can always depend on us getting the job done right for every situation. We offer a wide range of piling solutions ranging from augercast piles to micropiles. There are many benefits to using piles and piling techniques, but the end results are the same - to minimize time, cost, and environmental impact. You'll get quality assurance with residual benefits and alternate uses.
Additional benefits of piling solutions include:
Adapts to marine and shore applications
Requires no curing time
Can be driven in a natural sequence, minimizing the movement of equipment
Produces no spoils or potentially hazardous materials
Can be applied to many types of soils
Helical Piles - Piling Solution for Commercial Projects
One common piling solution is helical piles, also known as screw piles. They are defined by the International Building Code (IBC) as "manufactured steel deep foundation elements consisting of a central shaft and one or more helical bearing plates. A helical pile is installed by rotating it into the ground. Each helical bearing plate is formed into a screw thread with a uniform defined pitch".
The benefits of using helical piles are:
Quick installation
Installs in areas with limited access
Little spoil removal
Torque correlates to capacity
Can be loaded immediately after installation
Resist both axial compression and tension loads
Matthews Structural Solutions primarily uses Earth Contact Products helical pile materials. Please visit their website at www.earthcontactproducts.com for product information.