Commercial Underpinning Solutions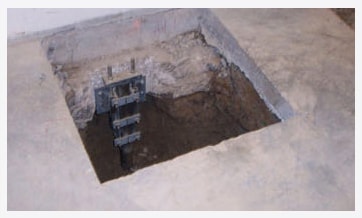 Matthews Structural Solutions does commercial underpinning to repair commercial foundations. Underpinning is the process of strengthening and supporting a failing foundation. When a commercial foundation has proper underpinning, the structure will be lifted to the acceptable elevation and it will provide support to prevent additional settling.
Settling foundations can be caused due to the changing moisture content in the soil beneath the foundation. When soil get saturated with moisture it will expand and when it gets too dry, it will contract. As the soil is continually shifting, so is the foundation that is on top of the soil. When foundations settle, it can cause damage throughout the entire structure. Some of the signs of a failing foundation are:
Sloping floors
Ceiling cracks
Wall cracks
Sticking doors and windows
Foundation cracks
Ceiling cracks
Bowing or leaning walls
If your commercial building has any of the signs of foundation settlement, it is important to contact the professionals at Matthews Structural Solutions for a free inspection. We offer the services of a structural contractor to help your project run smoothly from beginning to completion. If we find that you are in need of underpinning, we have over 35 years of experience and use the best products available for commercial underpinning. Our underpinning products are manufactured by Earth Contact Products (ECP), the leader in the manufacturing of underpinning products in the industry today.
Here are a few reasons why you may want to consider commercial underpinning:
The original foundation is not stable or strong enough
Usage of the building has changed
The soil supporting the structure has changed
New construction nearby has required excavation of the soil currently supporting the existing foundation
It is more cost effective to use underpinning rather than build a new structure
Things to consider before commercial underpinning such as:
Underpin the entire foundation. There are risk factors when underpinning only a portion of the foundation.
If you have plumbing leaks or negative drainage. Left unattended this will cause foundation movement.
Floor instability will cause distress to the foundation.
Damage from vegetation will draw moisture away from the foundation, causing settlement.
Why Use Matthews Structural Solutions for Commercial Underpinning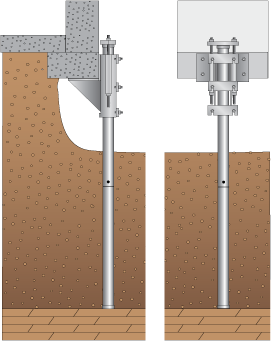 Matthews Structural Solutions drills steel push piers deep into the ground through the unstable soil layers until they reach a solid soil layer. Each pier is then load tested. After testing, the entire weight of the structure is lifted onto the piers using hydraulic jacks. The structure will be level and stabilized for many years to come. We use the best steel push piers in the industry manufactured by ECP.
With underpinning, commercial structures are more accessible for inspection, renovations, and other improvements. Underpinning also saves energy and reduces heating and cooling costs. Other benefits of our piering system include:
Installed from outside or inside existing structure
Little soil removal
Installs in areas with limited access
Installed with portable hydraulic equipment
Piers are load tested during load transfer
Can be loaded immediately after installation
Attaches to existing foundation with bracket system
Matthews Structural Solutions has over 35 years of experience in commercial underpinning. We have established an outstanding reputation and we intend to keep it that way. For all of your commercial underpinning needs, contact the experts at Matthews Structural Solutions.