Underpinning Solutions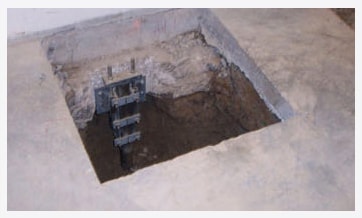 Matthews Structural Solutions is a leader in the underpinning of existing foundation systems. Underpinning, also referred to as piering, is a process that transfers the loads from a structure to a deep foundation element bearing in more suitable ground. When foundations fail, our structural contractors depend on quality underpinning solutions. Underpinning enables us to complete complex foundation issues without causing disturbance to the work area. Commercial underpinning has one simple concept - to strengthen, lift and support settling foundations. Here are several reasons why your structure may need underpinning:
The existing foundation is weak or unstable due to settlement
The building's structure has shifted or moved due to floods or droughts
Changes in the soil that supports the foundation
Economical solution over new construction
Nearby new construction with excavation
When a foundation has sifted and settled, there will be structural damage throughout the entire structure. That is why it is important to know what signs to look for that may indicate that you are in need of foundation repair. When you look around your commercial or industrial building look for some of these signs:
Ceiling cracks
Floor cracks
Sloping floors
Wall cracks
Bowing or leaning walls
Doors and windows that stick
All of these are signs that you may have foundation settlement. It is important to contact a professional at the first signs of foundation settlement. The experts at Matthews Structural Solutions will come and give you a free inspection and offer you the underpinning solution for your repair needs. The sooner a foundation repair is done, the least amount of damage that will occur throughout the structure.
Benefits of Underpinning
With underpinning, structures are more accessible for inspection, renovations, and improvements. It also helps save energy, reduce heating and cooling costs, and stabilizes the soil underneath the foundation. Our underpinning piers include steel push piers that are used to stabilize and lift foundations back to normal. Our hydraulic equipment used for piering is quiet and vibration free. All installation equipment is portable and can be manually transported on the job site and into position. After all of the piers are installed and load tested, the structure can be immediately restored by transferring the load to the piers. There's no time wasted, waiting for concrete to cure, and no soil to remove from the site. A measured factor of safety is verified, as the piers are 100% load tested to a force greater than the actual working load.
The benefits of using a piering system are:
Installs from outside or inside existing structure
Installs with portable hydraulic equipment
Installs in areas with limited access
Little spoil removal
Piers are load tested during load transfer
Can be loaded immediately after installation
Attaches to existing foundations with a bracket system
Matthews Structural Solutions primarily uses Earth Contact Products, LLC piering materials, the very best in the industry. Please visit their website at www.earthcontactproducts.com for product information. We have over 25 years of experience and have established an outstanding reputation in the Pittsburgh, PA area. We will be here for from beginning to end and even afterward to answer any of your questions or concerns. Contact Matthews Structural Solutions for any of your underpinning needs in Pittsburgh, PA.