STRUCTURAL REPAIR IN THE DISTRICT OF COLUMBIA

Underpinning is not only applicable to residential homes, it can be used for commercial projects. The same reasons for foundation failure in homes are often found in commercial structures. Foundation settling and sinking can be caused by expanding or contracting soil, poor soil conditions, and poorly compacted soils. Regardless of what is causing a settling foundation, it can damage a building's structure and compromise its value. Matthews Structural Solutions offers a complete line of underpinning methods for existing and new construction applications in the District of Columbia. We repair settling foundations, sinking floors, leaning or bowing walls, cracking walls, and other structural issues.
Types of Structural Repair & Engineering in The District of Columbia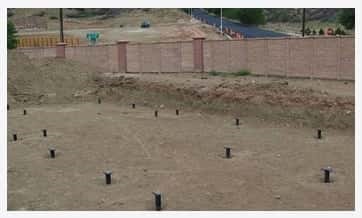 Matthews Structural Solutions provides various repair solutions to support and stabilize foundations, including the services of engineers and structural contractors. Our solutions include:
Piling Solutions
We offer piling solutions, such as helical piles, micropiles and augercast piles. These are a cost-effective and practical way to stabilize your foundation quickly in many types of soils.
Underpinning Solutions
Our underpinning methods include steel push piers. Our piers range from the 300 ECP Series to the 400 ECP Series. They are designed to prevent and eliminate foundation failure and can reach deeper depths than other piers.
Shoring Solutions
We offer shoring solutions for new and existing retaining walls. They help stabilize cracking and bowing walls for many years to come. Other benefits of shoring is that it uses soil nails and requires minimal excavation and disturbance to the site.
Civil Engineering
The experienced engineers at Matthews Structural Solutions will provide you with a commercial structure that is energy efficient, strong and stable, ergonomic, and durable.
Since the 1980s, we've been providing piling and anchoring solutions for deep foundations, structural underpinning and retaining wall shoring. We use ECP products, the leading manufacturer in underpinning. Contact us today if you need commercial foundation repair in the District of Columbia area.