STRUCTURAL REPAIR IN DELAWARE

Since 1980, the experts at Matthews Structural Solutions have been providing quality piling, underpinning, and shoring solutions for commercial projects in Delaware. We repair settling foundations, uneven floor slabs, and collapsing retaining walls by using the latest materials and products on the market. Our products are made from Earth Contact Products (ECP), the leading manufacturer in the underpinning industry. Matthews Structural Solutions uses the appropriate structural methods and offers the services of structural contractors and civil engineers to ensure efficiency and productivity.
Types of Structural Repair & Engineering in Delaware
Piling Solutions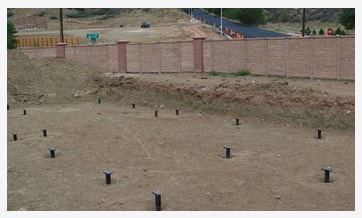 At Matthews Structural Solutions, we can repair new or existing foundations by applying helical piles or augercast piles. Because helical piles have unique design properties, they are used on unstable soil conditions or to avoid excavation expenses. Augercast piles are another piling solution that is designed to support bridges, towers, buildings and much more.
Underpinning Solutions
Matthews Structural Solutions provides effective underpinning solutions to existing foundations. This process involves transferring the load to the piers. Click here to learn about the many benefits for using underpinning.
Shoring Solutions
Matthews Structural Solutions offers shoring solutions for new and existing retaining walls. We use plate anchors to stabilize and support cracking and bowing walls. The installation is a quick process that uses hand-held equipment with little excavation implemented in the work area.
Structural and Civil Engineers in Delaware
Our expert civil engineers will work with you to design the structure you are needing and envisioning. The civil engineers at Matthews Structural Solutions will provide you with a structure that will withstand harsh conditions, help lower heating and cooling costs, and last for years.
We have experience with a wide variety of properties, including hotels, office buildings, schools, and more. Contact us to learn more about how a Matthews Structural Solutions engineer can make your structure efficient, convenient, and durable.
Other Services in Delaware
We also offer soil nailing to permanently or temporary secure retaining walls for commercial businesses and homes. Soil nails can be used in confined areas such as sheds, tunnels, garages and buildings.
For effective piling, underpinning and shoring solutions in Delaware, contact Matthews Structural Solutions today. We serve the following cities in the state of Delaware:
We offer quality products to keep your foundation structurally sound. Contact us today for an estimate.