Category: Snow Removal

Schedule Snow Removal Now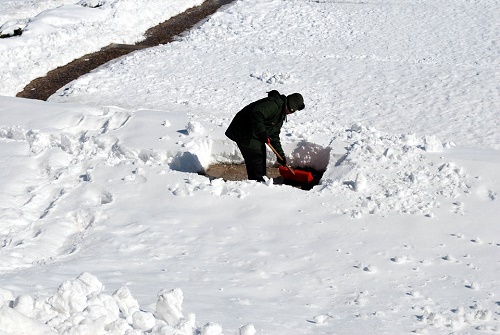 It snows every year, but you would be surprised by the number of people that wait until the first snowfall to call us in need of snow removal. It's never too early to call and set up a snow removal plan with us at Matthews Structural Solutions.
We have been performing snow removal and ice control since 1980, so we have it down to a science. Our fleet is available 24 hours a day, seven days a week, so we can start snow removal no matter what time a storm rolls through. We know how fast the weather can change in the Pittsburgh area. It may be a sunny day when suddenly a system drops a foot of snow on us.
Snow Waits For No Man
If you wait until the snow falls to give us a call, we can't guarantee that we can get to you. On the other hand, if you set up services in advance, we will make sure that you are on our schedule and we have the equipment and staff assigned to you. You can be the hero of your company when people pull into a cleared lot and are able to walk into your building without slipping on the ice or ruining their shoes in the deep snow.
Matthews Structural Solutions has the equipment and people to handle any area that needs snow removal or ice control:
Shipping depots
Industrial lots
School lots and sidewalks
Commercial parking lots
Private company roads
Business sidewalks
College campuses
No matter how big or small, we can help keep people safe. We have a variety of de-icing materials, such as salt, sand, salt/sand mix and other products, like calcium chloride or acetates. We want to keep your driving and walking surfaces clean, clear and dry.
Keeping It Safe
We can assist you with snow plowing and hauling, if needed, in addition to de-icing, shoveling and sidewalk clearing. We'll keep working until the snow stops, making sure your business is safe.
Don't wait for the snow and ice to make it difficult for you, your employees and your customers to get to your business. Contact us today to make sure you have the best snow removal service in the Pittsburgh area with Matthews Structural Solutions.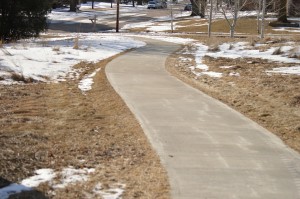 Be Prepared! Winter comes around every year, but it seems to sneak up on us every time. The weather has an impact on everything we do, but we often don't think about our concrete. We take it for granted, it does its job and we don't give it a second thought. However, cold weather can impact your concrete and here are some things to look out for.
Once the concrete is set and has aged, the cold weather doesn't have as much impact on it, but you still have to keep a lookout for a few things. If the weather changes a lot, it can really beat up your concrete. Temperature differentials can wreak havoc on your slab. Cracks can appear and if they're not taken care of they can grow. If the cracks aren't sealed, water can go inside. Water freezing in cracks will cause the concrete to expand and contract, weakening the entire area and negatively impacting its durability.
New Concrete & Cold Temperatures
If you are pouring new concrete, temperature is very important. Temperatures below 40 degrees F (5 degrees C) is considered cold weather concreting. Special precautions have to be taken when working with concrete at temperatures such as this.
When the temperature falls below 40 degrees, it takes a longer time for the concrete to set and strengthen. You'll have to be patient in waiting before removing formwork or moving on to the next step in your project. A general rule of thumb states that a drop in temperature of 20 degrees F (10 degrees C) will double the setting time. Take this into account when you are planning your next step. Make sure you are working with someone that is an expert in working with concrete or you may have a poor final result or have to start over.
You need to keep an eye on the weather forecast if you're getting ready to pour concrete. Concrete will freeze if the temperature falls below 25 degrees F (-4 degrees C). If the concrete is exposed to freezing temperatures before it hardens, it may incur permanent damage. The concrete should be protected from freezing for at least two days after it is poured. The strength of the concrete may be reduced by 50% compared to that of concrete that is formed during normal temperatures.
It is important that you work with a concrete expert any time of year to make sure that your concrete is poured correctly and gives you the strength and durability that you and your structure needs. Matthews Structural Solutions can assist you with any commercial foundation problems you may have. Call us today to learn more about our services or take a look through our website.

Hiring a Snow Removal Contractor in Pittsburgh, PA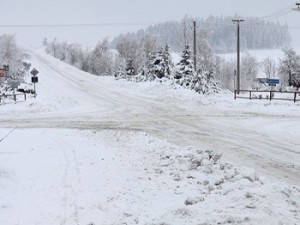 The cold weather is still here, and some areas have several inches of snow piling up in your driveway. Removing snow is a strenuous activity, especially for seniors and people with health issues. If you're thinking about retiring your shovel this winter and hiring a snow removal contractor, Matthews Structural Solutions recommends the following tips.
Request several estimates from multiple companies. Prices may vary due to the amount of work and size of the property.
Research the company and request references.
Some contractors offer quote prices as well as additional charges. Find out if the contractor has fixed prices throughout the season, regardless of the amount of snow.
The contractor should examine your property, and provide a written agreement. Also, find out how you can terminate the agreement, if necessary. Never settle on an agreement over the phone.
Find out if the company is affiliated with the BBB.
Find out if the contractor is insured or bonded.
Get the best contact information in case you're unable to reach the contractor or if they are in route. Usually the office the best contact source.
Communicate with the contractor by telling them what you need, and how you want the service done.
If you're looking for a snow removal contractor, make sure your expectations are realistic. Snow storms can make traveling difficult for contractors, therefore, it may take longer for them to reach you.
Snow Removal Service by Matthews Structural Solutions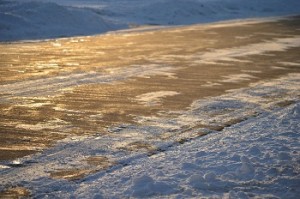 For all your snow removal needs, contact Matthews Structural Solutions. We have well-experienced and professional contractors that are reliable and helpful. Our vehicles and equipment are thoroughly inspected on a regular basis to ensure optimal service.
Matthews Structural Solutions offers the following services:
Snow hauling, snow removal, and snow plowing
Full-time snow removal staff
Quality equipment such as snow plows, pusher boxes, and deicing equipment
Provide accurate estimates
Freeze/thaw patrol
At Matthews Structural, each job is completed from beginning to end. We focus on safety and quality service to meet your snow removal needs and expectations. Contact us today for snow removal tips and services in Pittsburgh, PA.