Category: Foundation repair

Over the years, there have been many different ways to build a foundation. You could have cinder blocks, bricks, poured concrete, stones, you name it, there's probably a structure somewhere with a foundation made of the item. When you are planning on doing a renovation of a building, you need to be aware of potential problems that can occur.
Before You Start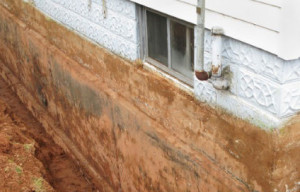 Before you begin renovations, it is a good idea to completely scout out the whole structure. You probably have an idea of what you want to do, but make sure your foundation is secure or you'll just be wasting money and time. If you are doing the renovations yourself, make sure that you have the needed building permit.
Foundation Problems
Depending on the type of foundation, you may encounter a variety of problems. All of them weaken your foundation, putting your home or business in a precarious position. If your foundation is already unstable, due to cracks or bowing walls, renovations may worsen the damage. If your renovations involve vibrations or tearing down walls, stress may be placed on already weakened walls. A small crack may get bigger or a bowed wall may get worse or even collapse.
Foundation Solutions
Before you begin a renovation, make sure your foundation is secure. Doing a fix-up on another part of your home with a damaged foundation is like putting a nice stereo in a car with a bent axle. Take care of the important things, before you work on the extras. Matthew's Structural Solutions can repair your damaged foundation through piling, underpinning or plate anchors. We have over 30 years experience and will make sure your home or business is structurally sound for any renovations that you would like to do. We take pride in our work and will make sure that your job is handled with the highest level of quality.

Matthews Structural Solutions has been working with the owners and managers of commercial properties, including office buildings, with foundation and structural repair. We have been in business since the 1980's so you can rest assured knowing that the structural integrity of the building will be properly addressed.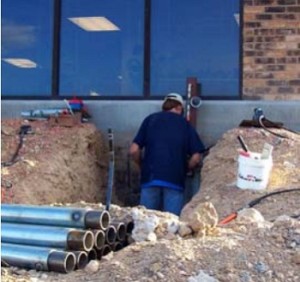 When a commercial building needs foundation and structural repair, it is important to have a company that has years of experience in this type of work. We focus on quality and use only the best products for commercial structural repair. Our products are manufactured by Earth Contact Products (ECP), the very best in the industry. These products will extend the life of the structure and ensure the safety of the building's occupants.
Matthews Structural Solutions will work with you to carefully preplan the project to address the details of hours of operation, scheduling, safety, traffic control, noise and dust control. Whether it is an office building or industrial commercial building, you can be assured that the work will be done with everyone in mind.
Solutions For Structural Repair in Commercial Buildings
Matthews Structural Solutions uses steel push piers to level and stabilize commercial structures. These steel push piers are drilled deep into the ground, through unstable soil layers, until they reach a solid soil layer. Then each pier is load tested. After testing, the entire weight of the structure is lifted onto the piers with hydraulic jacks.
There are several reasons why you may want to consider commercial underpinning such as:
Usage of the building has changed
The soil supporting the structure has changed
New construction nearby has required excavation of the soil that is supporting your foundation
Underpinning is more cost effective than building a new structure
Here are a few reasons why you may want to consider commercial underpinning:
The original foundation is not stable or strong enough
Usage of the building has changed
The soil supporting the structure has changed
New construction nearby has required excavation of the soil currently supporting the existing foundation
It is more cost effective to use underpinning rather than build a new structure
Contact the professionals at Mathews Structural Solutions today for any of your commercial structural repair needs for your office or commercial building. We will work with you to plan the best time for your repair needs. We have established an outstanding reputation and intend to keep it that way.

Why We Use ECP 350 Series Piers for Underpinning in PA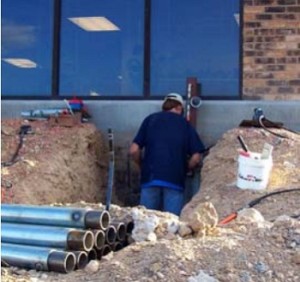 Due to clay soils in Pittsburgh, settlement is a common issue. Expanding clays, soil erosion, weak soils, and drought-like conditions are usually the culprit. Without foundation assessment, the situation can get worse over time causing wall and foundation cracks. One case history involved the Dixie Forest Service Office in Cedar City, UT. ECP 350 steel piers were used to support and stabilize an office building that settled between 1/8 inch and 3-5/8 inches. The settlement was caused by consolidation of fill soil. The Model 350 steel piers used a tubular steel pier that was hydraulically driven deep into the soil until it reached suitable soil and supported the structure.
At Matthews Structural, we offer ECP 350 series piers to prevent further damage to your foundation. ECP 350 steel piers are one of the strongest and deepest driving pier systems used for commercial and residential applications. They close cracks in masonry, restore settlement, and support foundations.
Why ECP 350 Series Piers?
We use Earth Contact Products (ECP) because they are the leading manufacturer of underpinning. Its steel piers are designed in a state-of-the-art facility by skilled welders and engineers.
The ECP 350 steel piers use a two-stage system of driving steel pilings to a secure bedrock. During the installation process, the hydraulic manifold system lifts and supports the structure. Skin friction is not required for support. Each pier is load tested using the maximum weight of the structure.
Benefits of ECP 350 Series Piers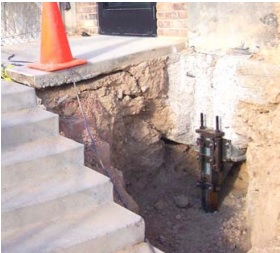 Here are several advantages of using ECP Model 350 series  piers for your foundation repair:
Installed with little to no vibration
Portable equipment
Used for hard to reach areas
Offers lifetime support
Field load tested during installation
Installed from interior or exterior of structure
Made of galvanized steel
Standard 4″ lift
Manufacturer's warranty
Recovers lost elevations
ECP 350 steel piers help support and restore settling commercial buildings. Contact Matthews Structure Solutions for quality ECP 350 series piers in the Pittsburgh, PA area.