Category: civil engineering

Although residential construction and commercial buildings have some similarities, the differences are important. A commercial foundation must be able to safely support thousands of tons, between the structure, people, and other materials and supplies inside the building. It is vital that you have a foundation company that has the engineering experience to make sure that the soil under the structure is stable enough to support the weight of the building and that the materials used to build the foundation are also strong, stable, and secure.
Industrial and Commercial Foundation Construction
There is no set size for a commercial building, so the contractor working on the construction should be able to adapt to anything from a one-floor office to a multi-story building. Matthews Structural Solutions employs a structural engineer to make sure that no matter what kind of foundation is needed, it will be the right size and stability for your building. There will be different construction methods and materials needed, depending on the type and size of the commercial foundation and the building.
Most commercial foundations today are built using piles. Matthews Structural Solutions wants to make sure that the materials we use match the level of expertise that we have. We use commercial piles manufactured by Earth Contact Products (ECP). ECP is the leading manufacturer of foundation repair equipment in the industry. The piles are driven through the soil until they reach a strong base. This creates a permanent support for your commercial building, giving it the stability it will need for years to come. Once the piles are placed, the foundation can be built upon the piles and construction will be completed.
Industrial and Commercial Foundation Repair
There are a variety of causes for commercial foundation damage in the Pittsburgh area, however, the most common reason a foundation begins to fail is due to the soil settling. If the soil underneath a commercial structure becomes oversaturated or shifts due to poor construction techniques or natural reasons, the foundation may settle unevenly, causing stress to the structure. This may manifest itself in sticking doors or windows, cracks in walls or floors, or crumbling foundations.
Fortunately, the damage from a settling foundation can be reversed and stopped entirely. The sooner repairs are begun the less time, money, and effort it will take to implement a solution. The engineers at Matthews Structural Solutions will inspect the property and determine the cause of the problems. If the foundation is settling, they will most likely suggest that underpinning is performed to stop the foundation from settling. The foundation is stabilized by installing piers or piles into the soil under the problem areas. The load of the building will be transferred to the underpinning, relieving the stress on the structure. Once the building is stabilized, the entire structure will be raised to its original height.
Matthews Structural Solutions and Commercial Foundations
For over 35 years, Matthews Structural Solutions has been providing commercial foundation repair to the Pittsburgh area. We offer quality structural engineering and can provide both repair and new construction services to you. We offer both commercial foundation repair and structural design engineering, ensuring the project is in good hands from start to finish. Contact the professionals at Matthews Structural Solutions today to keep your commercial property, strong, stable, and functional.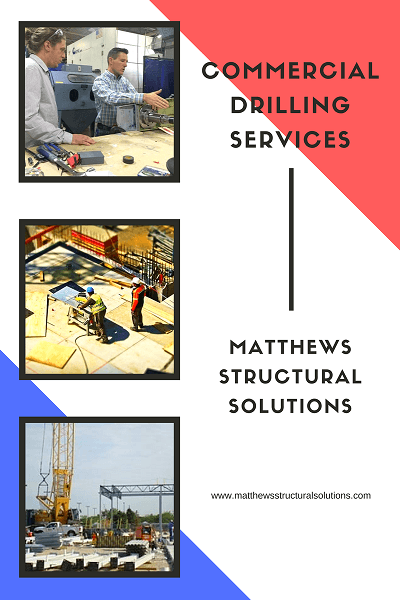 If you are in need of drilling services, you don't want to go with some fly by night operation. You want to make sure you hire a company that has a good reputation and has the right materials and experience to do the job right from start to finish.
Matthews Structural Solutions offers free estimates and proposals that have all of the details you will need to make an informed decision. We'll calculate what you will need for your unique drilling project along with a price range for the drilling costs.
Our civil engineers and structural contractors have the knowledge and experience to make sure that your project is done safely, quickly, and efficiently. They will make sure that all building codes are followed, including local and municipal. Not every drilling company has civil engineers on staff, so you would have the responsibility of finding one or completing a project without the oversight of an engineer. We strongly recommend you use the services of a civil engineer.
Trusted Commercial Drilling
When you contact Matthews Structural Solutions for a commercial drilling project, we will work with you to make a plan customized to your needs and situation. We will provide you with an individualized timeline for the project along with a budget that fits your guidelines.
The drilling experts at Matthews Structural Solutions knows all the different areas that need to be addressed when creating an estimate. Things like the soil structure, rock characteristics, the depth of the well needed, and so on. All of these things go into the calculation of the time and money a project will take to complete it successfully.
The years of experience that our staff has allows us to determine the best drilling solution for your commercial property. Our equipment is made for large commercial projects, utilizing high volume, high-pressure rigs that can drill large diameter and deep holes. Some drilling companies have to rent or subcontract the equipment to complete a job, but Matthews Structural Solutions makes sure our contractors have the best equipment available when they need it.
Quality Workmanship and Service
We take pride in every project we do. We've earned our reputation for outstanding customer service and expert workmanship. The professionals at Matthews Structural Solutions are committed to providing you with a drilling project that is completed on time, on budget, and to your satisfaction. Our goal is to provide you with the best commercial drilling service in the industry.
Contact the commercial drilling experts at Matthews Structural Solutions today and let us get started on your free estimate and proposal. We look forward to working with you.

If you've browsed around the Matthews Structural Solutions website, you have probably come across the term "civil engineer". What exactly does a civil engineer do and why is it so important?
What Does A Civil Engineer Do?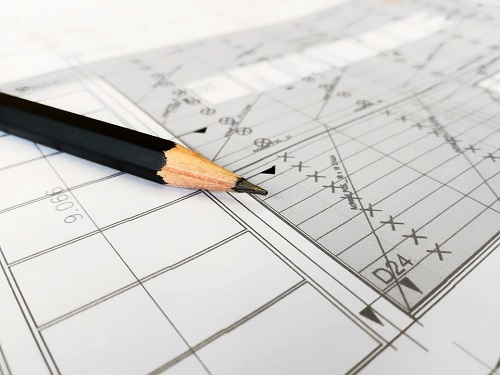 A civil engineer wears many hats. They are involved with the design, construction, and maintenance of structures and the surrounding environment. They may work on the following structures:
Bridges
Canals
Dams
Office Buildings
Parking Garages
Roads
Runways
Schools
Tunnels
This is just a small sampling of the types of buildings and structures that a civil engineer can work on. You can find civil engineers working on projects for the public and private sector alike. Their work can be found on everything from small homes to large highway projects.
The entry level for a civil engineer is typically a Bachelor's degree, but most have some type of post-education degree. They work in a variety of conditions and locations, sometimes they are in an office, while other times they may be out on a project, monitoring the operation and making sure things are being done correctly.
Why Is A Civil Engineer Important?
Civil engineering is probably the oldest type of engineering. The first time someone built a shelter or figured out how to cross a river, they became a civil engineer. Thankfully, we've come a long way since those days and we have a better understanding of what is needed to make sure a structure is secure, stable, and safe while making sure it is affordable to build it.
Honestly, if a civil engineer does his job well, the end user won't even think about the work that went into designing and building the project. They'll cross the bridge or fill up their water bottle or take the elevator to their office without wondering how it all works.
If a civil engineer isn't used on a project, the construction may be done on soil that isn't stable or properly prepared. The foundation can crumble, endangering the stability of the building and safety of the people inside. Most everyone has seen the footage of the Tacoma Narrows Bridge collapse. The bridge was not designed to deal with the winds and the collapse is now studied in classes about bridge design. An engineer, Professor Frederick Burt Farquharson, was hired, but the bridge had already been built. He was able to come up with some solutions, but it was only a few days before the bridge collapsed. Fortunately, no people were killed in the collapse.
It is very important that you take every step available to make sure your structure is secure and stable. A civil engineer is just as important as any other person or tool used on a project.
Make Sure You Hire A Civil Engineer
Not every contractor has a civil engineer on staff. Make sure you hire a company like Matthews Structural Solutions to keep your project safe and stable, protecting your investment, your people, and the public.